Certificate Check & Download
All certificates from 1st January 2015 include security features to verify they are valid and have been issued by us:

a QR code - can be read by a free QR Code Reader app on a smart phone
a unique certificate number that can be checked on our site
a URL that will take you to our site and confirm who, what, when, and pass/fail
Websites that can validate our certificates are:
- FirstAidForAll.co.uk
- FirstAidForAll.uk
- SkillsForAll.co.uk
- SkillsForAll.uk
- FireSafetyForAll.uk
- HealthAndSafetyForAll.uk
We validate all certificats on our website so they cannot be forged, copied or altered.
Concerned about a certificate? Please contact us immediately and we will check our records.
If in doubt about a certificate please contact us immediately and we will check our records.
---
Client Feedback
"Tony the tutor was very informative, precise and had a good sense of humour, which made the course enjoyable and fun. T..."
Mrs D Hughes 05/Jul/2019
About Us
First Aid Industry Body Approved:
FAIB 58/09(213)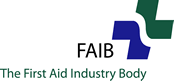 Contact Us
Head Office:
Caroline House, 146 Audenshaw Road, Audenshaw, Manchester, M34 5HQ, UK
0161 250 16 16
©2019 All Rights Reserved.