The objectives of the Company, First Aid For All.Ltd.:
- to provide relevant, high quality first aid and related training to individuals and businesses.
- to ensure all our trainers know the current best practices and are able to instruct learners confidently and competently.
---
Client Feedback
"Absolutley amazing! First aid trainers were so lovely and got us all involved. ..."
Miss S Robinson 07/Mar/2019
About Us
First Aid Industry Body Approved:
FAIB 58/09(213)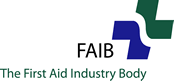 Contact Us
Head Office:
Caroline House, 146 Audenshaw Road, Audenshaw, Manchester, M34 5HQ, UK
0161 250 16 16
©2019 All Rights Reserved.