AED Defib units can be supplied by First Aid For All Ltd. We have a number of units available to us.
AED Defib Benefits
An AED - Automatic External Defibrillator (often referred to as a defib) is a device that delivers a controlled electric shock to a casualty when their heart has stopped beating effectively. The benefit to the casualty is, in many cases, the difference between life and death.
For further information on units available and the latest AED prices: contact us at AED Defib Sales visit our online shop AED defib for sale
---
Client Feedback
"Joanne was amazing, I was dreading a first aid course as they are so dull and you switch off and learn nothing, jo made ..."
Miss D Smith 26/Mar/2019
About Us
First Aid Industry Body Approved:
FAIB 58/09(213)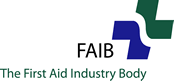 Contact Us
Head Office:
Caroline House, 146 Audenshaw Road, Audenshaw, Manchester, M34 5HQ, UK
0161 250 16 16
©2019 All Rights Reserved.