Please use the following form to leave us feedback on any aspect of our services.
If you want to leave anonymous feedback please leave the name fields blank or just use your initials.
If you would like us to contact you regarding your comments please let us know in the comments and also leave an email address or contact number.
NOTE: for general enquiries please see the Contact Us page:
Contact Us
---
Client Feedback
"Tony the tutor was very informative, precise and had a good sense of humour, which made the course enjoyable and fun. T..."
Mrs D Hughes 05/Jul/2019
About Us
First Aid Industry Body Approved:
FAIB 58/09(213)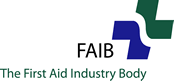 Contact Us
Head Office:
Caroline House, 146 Audenshaw Road, Audenshaw, Manchester, M34 5HQ, UK
0161 250 16 16
©2019 All Rights Reserved.