First Aid Training Courses Warrington
First Aid For All Ltd. can provide first aid training courses in Warrington. We can provide first aid courses at your own workplace or at a training venue in Winwick. The venue is easy to find and close to boh the M6 and M62 motorways. Free parking.
Please see our public first aid courses Warrington list for details.
---
Client Feedback
"Jo is awesome, fantastic, and funny trainer. I really enjoyed every aspect of the training. Thank you. ..."
Mr W Olugbenga 20/Jun/2019
About Us
First Aid Industry Body Approved:
FAIB 58/09(213)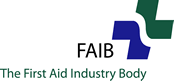 Contact Us
Head Office:
Caroline House, 146 Audenshaw Road, Audenshaw, Manchester, M34 5HQ, UK
0161 250 16 16
©2019 All Rights Reserved.