First Aid Courses Stockport
First Aid For All Ltd. can provide public and private first aid training courses in Stockport. We can provide first aid courses at your own workplace or at our trainings venues around Greater Manchester.
Please see our public first aid courses Stockport list for details.
---
Client Feedback
"Great delivery of training from the lady. The training was very interactive and enjoyable. Well done...."
Mr S Rukani 26/Mar/2019
About Us
First Aid Industry Body Approved:
FAIB 58/09(213)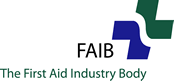 Contact Us
Head Office:
Caroline House, 146 Audenshaw Road, Audenshaw, Manchester, M34 5HQ, UK
0161 250 16 16
©2019 All Rights Reserved.